SKIN GEMS
CLEAN INGREDIENTS, CLEAR CONSCIENCE, AMAZING RESULTS
ROSE QUARTZ LOVE CRYSTAL STRAW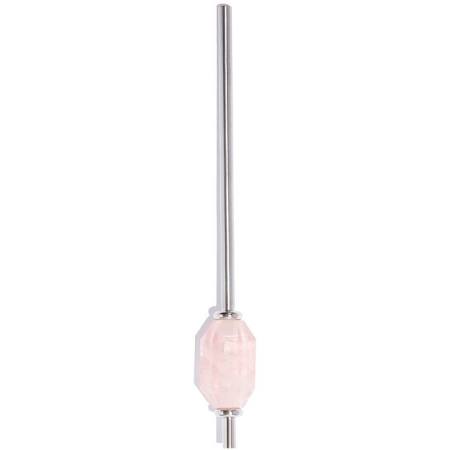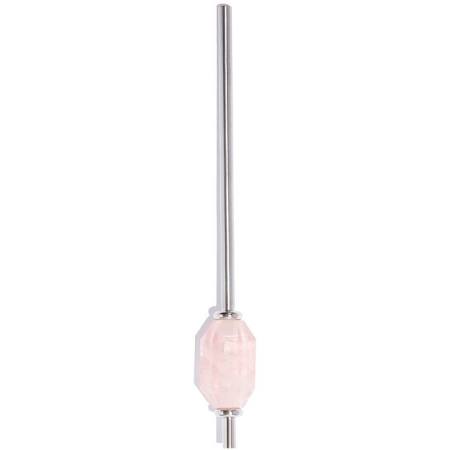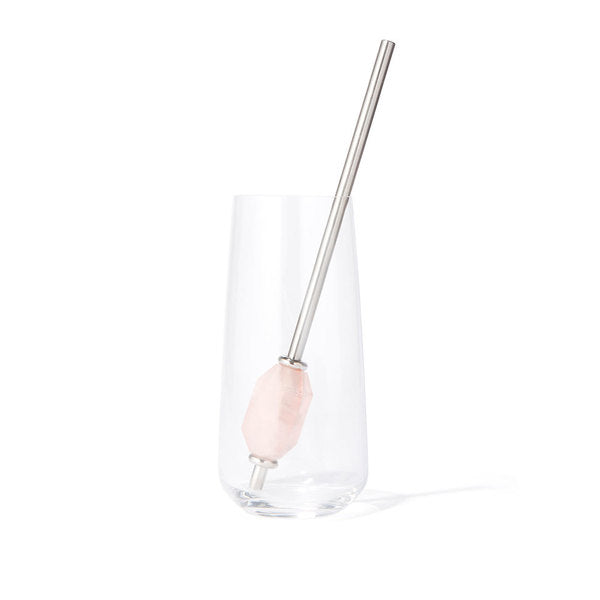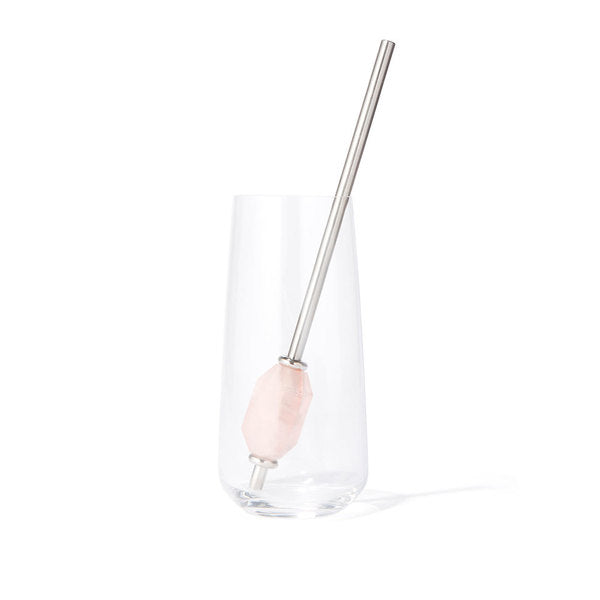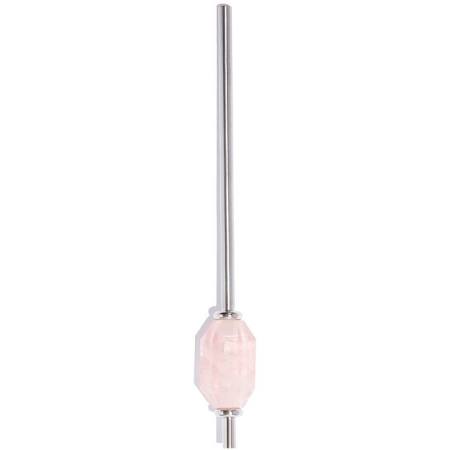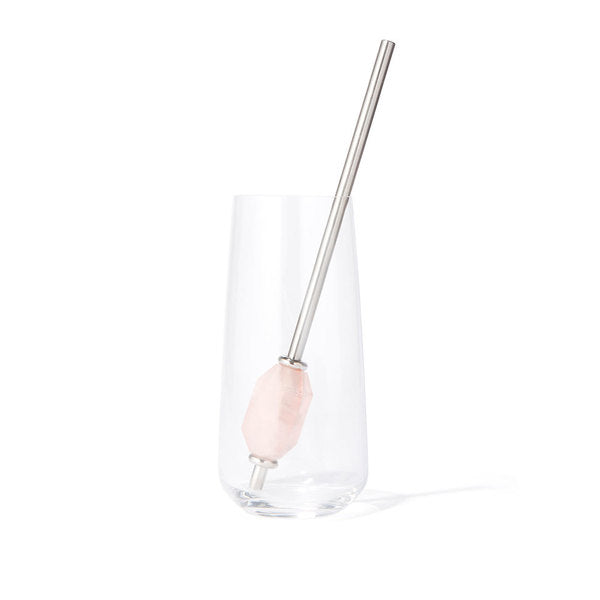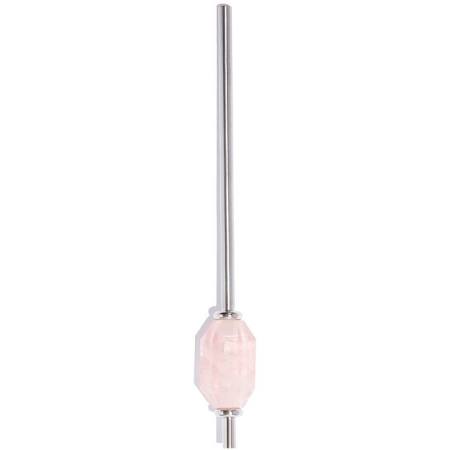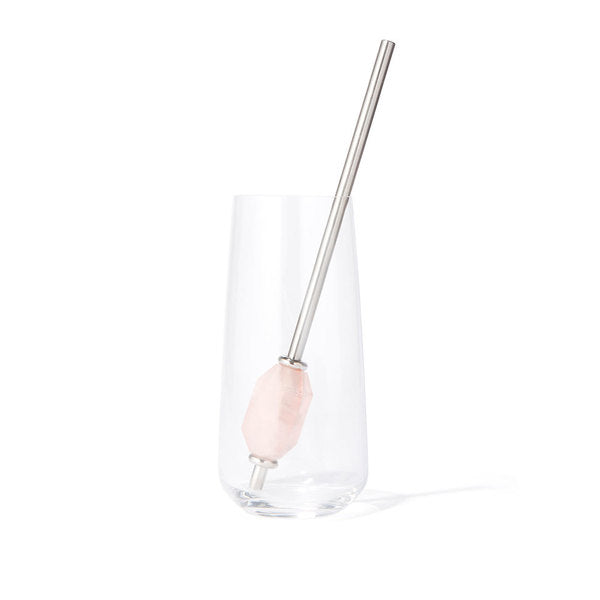 ROSE QUARTZ LOVE CRYSTAL STRAW
ROSE QUARTZ CRYSTAL STRAW
ROSE QUARTZ

LOVE - HEALING - COMPASSION 
Are you living your best plastic-free life? Take it up a notch with a gemstone-adorned straw. This ready-for-anything stainless steel option lets you say no to single-use plastic, and also comes with a carefully chosen crystal attached. Choose from rose quartz, or crystal quartz, each of which are believed to summon only the best vibes. The included cleaning brush and to-go pouch make it easy to incorporate into your everyday.

Help eliminate plastic waste with this polished steel-and-rose quartz straw. Somehow, everything tastes better through a crystal straw—and the rose quartz is said to radiate a heart-opening, calming vibe.
Stainless steel & rose quartz

8" length; Crystal size varies

Best used with water

Straw unscrews into two pieces for cleaning
Each straw comes apart and also comes with a brush for easy cleaning. Please do not submerge in extremely hot liquids. Dishwasher safe but hand washing is recommended. Non-toxic.

Rose Quartz opens the heart to compassion for self and for others, and raises self-esteem. Rose Quartz eases guilt and balances emotions, lowering stress and bringing peace.  Use Rose Quartz to enhance positive self-affirmations.

The soothing energy of Rose Quartz fosters empathy, reconciliation, and forgiveness of others. Lowering stress and tension in the heart, Rose Quartz clears out anger, jealousy, and resentment of others, and allows healing of heart issues and disease associated with holding on to such negative emotions.

Rose Quartz strengthens and balances the physical heart and circulatory system, and releases impurities from body fluids.  It hastens recovery, reduces high blood pressure, aids chest and lung problems, heals the kidneys and adrenals, and alleviates vertigo.  A good energetic support for those with leukaemia. Rose Quartz has the power to increase fertility and to protect both mother and unborn fetus from miscarriage.

KWARC RÓŻOWY

MIŁOŚĆ - ULECZENIE - WSPÓŁCZUCIE 
Czy żyjesz swoim najlepszym życiem bez plastiku? Podnieś go na poziomie słomy zdobionej kamieniem szlachetnym. Ta opcja ze stali nierdzewnej gotowa na wszystko pozwala odmówić jednorazowego użytku plastikowi, a także jest wyposażona w starannie dobrany kryształ. Wybieraj spośród kwarcu różanego lub kwarcu krystalicznego, z których każdy przywołuje tylko najlepsze wibracje. Dołączona szczotka do czyszczenia i pokrowiec ułatwiają włożenie go do codziennego użytku.

Pomóż wyeliminować odpady z tworzyw sztucznych dzięki tej wypolerowanej słomie ze stali i róży kwarcowej. Jakoś wszystko smakuje lepiej przez kryształową słomkę - i mówi się, że kwarc różany emanuje otwierającym serce, uspokajającym klimatem.

Stal nierdzewna i kwarc różowy

8 "długości; Rozmiar kryształów jest różny
Najlepiej stosować z wodą
Słomkę rozbiera się na dwie części do czyszczenia
Każda słomka rozpada się i jest wyposażona w szczotkę ułatwiającą czyszczenie. Nie zanurzaj w bardzo gorących płynach. Można myć w zmywarce, ale zaleca się mycie ręczne. Nietoksyczny.

Kwarc różowy otwiera serce na współczucie dla siebie i dla innych oraz podnosi poczucie własnej wartości. Kwarc różowy łagodzi poczucie winy i równoważy emocje, zmniejsza stres i przynosi spokój. Użyj kwarcu różanego, aby zwiększyć pozytywne afirmacje. 

Kojąca energia Różowego Kwarcu sprzyja empatii, pojednaniu i przebaczeniu innym. Obniżając stres i napięcie w sercu, Rose Quartz usuwa gniew, zazdrość i niechęć innych oraz pozwala wyleczyć problemy z sercem i choroby związane z utrzymywaniem takich negatywnych emocji. Kwarc różowy wzmacnia i równoważy fizyczne serce i układ krążenia oraz uwalnia zanieczyszczenia z płynów ustrojowych. Przyspiesza powrót do zdrowia, obniża wysokie ciśnienie krwi, pomaga w problemach z klatką piersiową i płucami, leczy nerki i nadnercza oraz łagodzi zawroty głowy. Dobre wsparcie energetyczne dla osób z białaczką. Kwarc różowy ma moc zwiększania płodności i ochrony matki i nienarodzonego płodu przed poronieniem.